Shannon Galvin's Tutorial
| | |
| --- | --- |
| by jasonrohrer | Monday, April 26, 2010 [3:20 pm] |

He explains how he achieved the look that he used in the Are We Home story in an entertaining tutorial that was made using Sleep Is Death itself (with a clear nod to McCloud's Understanding Comics):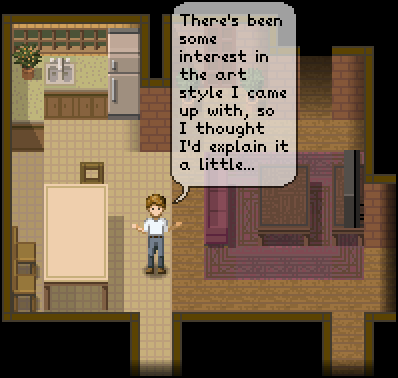 Bugfix release 14b
| | |
| --- | --- |
| by jasonrohrer | Friday, April 23, 2010 [5:51 pm] |

v14b was just posted. This release fixes several bugs and glitches that were discovered after the release of v14. If you had some trouble importing your v13 resourceCache, please try v14b. You can also now export Songs into resource packs. A full list of changes is posted below:


--Fixed import cache hang when a referenced resource does not exist.

--Fixed line endings in stringDatabase.txt on windows.

--Fixed long loading times when importing resource packs.

--Improved loading times when importing an old resource cache.

--Added a loading screen.

--Fixed a glitch where Waiting message not shown after joining a second game as Player.

--Reduced audio buffer size to improve latency (was increased during v14 debugging).

--Added missing "add to pack" button for Songs, removed for Phrases.

--Removed wayward "edit timbre" button from Phrase Editor.

--Added Ctrl-E to edit selected object or selected sprite layer.


Lots of great new stuff
| | |
| --- | --- |
| by jasonrohrer | Wednesday, April 21, 2010 [2:44 am] |

First of all, v14 came out as planned earlier this evening, complete with a brand new music editor. A full list of changes is below. PLEASE read the included Upgrading.txt file if you are upgrading from v13.

Next, Shannon Galvin has been working hard on some very cool stuff for the game. Get the the details here:


Finally, three great user-submitted stories have been selected and posted here:


Shannon's work and the material used in these stories is all available as resource packs in the download area.


Changes in v14:

--Fixed memory allocation bug in unique IDs.

--Fixed code to be 64-bit clean.

--Fixed bug in adding resources to a picker stack when that stack is visible.

--Fixed crash when undoing back to default object in Object editor.

--Fixed flip book sizing and distortion issues when screen is not 640x480

--Overhauled music editor, making it much more powerful.

--Fixed bug in selection of previously colored but erased sprite areas.

--Improved transparency toggle tool tip in Object editor.

--Added Ctrl-W to close editors.

--Added Alt-Enter to leave fullscreen mode (as work-around for lack of working
alt-tab behavior on the Mac).

--Added an import directory to make upgrading easier.

--Made UPNP messages more clear.

--Cleared external address if going back to hosting a local game.

--Added per-layer additive blend mode (for glowing objects).

--Search results with same name are now shown in newest-first order.

--Intel-specific build on the Mac.


The Story of v14
| | |
| --- | --- |
| by jasonrohrer | Saturday, April 17, 2010 [1:16 am] |

I was really hoping to have v14 done before this weekend. But after staying up until 4:45am last night and then getting up at 7:30am this morning and working all day... well, I need to rest.

I can blame the wise guy (literally) who suggested that I overhaul the music editor. I'm glad that I listened, because it's turning into a really cool music editor. Here's a peek: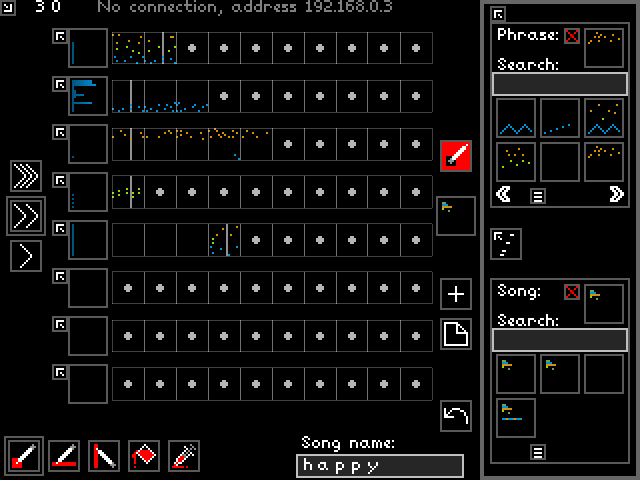 It allows you to do almost anything you'd want to do, but in a modular, layered fashion that matches the rest of the game's design. Build phrases out of notes, then lay them out into parts and assign timbres to them. Tweak the scale used by the whole piece, adjust speed. Phrases, timbres, scales, and whole songs are first-class, searchable objects with their own pickers. Much more powerful than the original music editor, but still retaining the property that you can throw almost anything in there and still have it sound pretty good.

Also, your music from v13 is not lost---what used to be a whole song now becomes a phrase in the new system, so you can build with your old melodies. In other words, the tone matrix lives on, but as a small part of a larger system.

The bottom line is that I'm extending my personal deadline until Tuesday, April 20, 2010 at 8pm New York Time. v14 will be in your hands by then for sure.

And that wouldn't be fair if I didn't extend your deadline too. You now have until Midnight on Monday to create and submit an amazing story. For the heroic people who submitted before the first deadline, thank you! Your entries will still be counted, and you're welcome to submit more stories with the extra time if you want.

http://sleepisdeath.net/amazingStories.php


Final Tutorial Video
| | |
| --- | --- |
| by jasonrohrer | Wednesday, April 14, 2010 [10:01 am] |

This last video shows a collection of tips and tricks:

http://sleepisdeath.net/videos.php

Almost everything about Sleep Is Death has been explained by video now.


Two more tutorial videos
| | |
| --- | --- |
| by jasonrohrer | Tuesday, April 13, 2010 [5:24 pm] |

These videos show advanced use of the Object Editor, and also how to manipulate depth sorting to achieve special effects:

http://sleepisdeath.net/videos.php


New videos, resource pack sharing
Future of SID news
| | |
| --- | --- |
| by jasonrohrer | Monday, April 12, 2010 [12:41 am] |

Instead of sending out mass emails on a regular basis, all future Sleep Is Death news will be posted here. You can keep up with this news by subscribing to the above RSS feed.

Links to these news posts will also be cross-posted on the above Twitter feed.